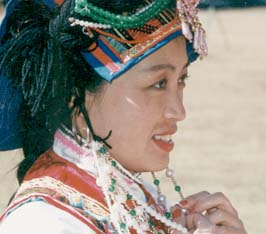 Yuxuan will be your Yi guide for a tour
of Yunnan's famous tourist sites.
&nbsp&nbsp&nbsp&nbsp&nbsp Wonderful natural resources and distinctive man-made resources have formed many tourist attractions in Yunnan. The tourism industry is one of the top ten economic industries in Yunnan. Why not visit the following places to satisfy your curiosity.
&nbsp&nbsp&nbsp&nbsp&nbsp Another asset of Yunnan welcomed by the tourist is the weather. In most parts of the province the weather is mild year around. Even in the winter only a sweater or light jacket is needed on the coldest day and in summer it rarely becomes uncomfortably hot.

&nbsp

Click the city name below for more information.